P. Dean Lampe, Senior Financial Advisor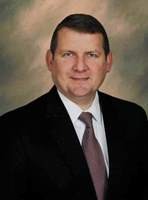 With over twenty years of financial services experience, I am dedicated to helping individuals meet their financial needs by developing investment plans around their long-term goals and risk tolerance. My extensive experience - throughout major shifts in the markets - enables me to help my clients structure balanced portfolios to address their specific financial goals.
I began my financial services career as a Financial Consultant with Northwestern Mutual. In 1994, my wife and I moved back to southern Illinois to start a family. I spent the next 15 years working for money management firms in Boston, New York and California where I worked with hundreds of advisors helping them to grow their individual practices with sound investment instruments. In 2009, I changed careers and joined Wells Fargo Advisors in Mt. Vernon. I wanted to take what I had learned from helping financial advisors and help friends and family in southern Illinois. Today hundreds of clients in 14 states look to my office for advice. I look forward to helping them meet their financial goals for many years to come.
I have earned a Bachelor's degree from Southern Illinois University and a Graduate degree from West Virginia University.
Committed to helping my community prosper, I am active with the Boy Scouts of America and my local church. Away from the office, I also enjoy many outdoor activities with my wife Lisa and two boys, Dylan and Reed.